As a coach registered with NROC, it is compulsory to be First Aid (with CPR and AED) certified. Recently, I attended the Standard First Aid + CPR/AED Refresher course at the Singapore Red Cross Academy, on the weekend of 16/17 Nov, 2 days before my certification expires on 19 Nov. This was the second time I'm renewing my first aid certification. My previous refresher course was also with the Singapore Red Cross Academy.
There were some changes to the syllabus since the last time I took the refresher course 2 years ago.
Back in 2017, the main syllabus change was to remove the requirement for mouth-to-mouth resuscitation from the CPR workflow. It was done to encourage more first responders to come forward to provide assistance, as many were not comfortable with (or even the thought of) the mouth-to-mouth act.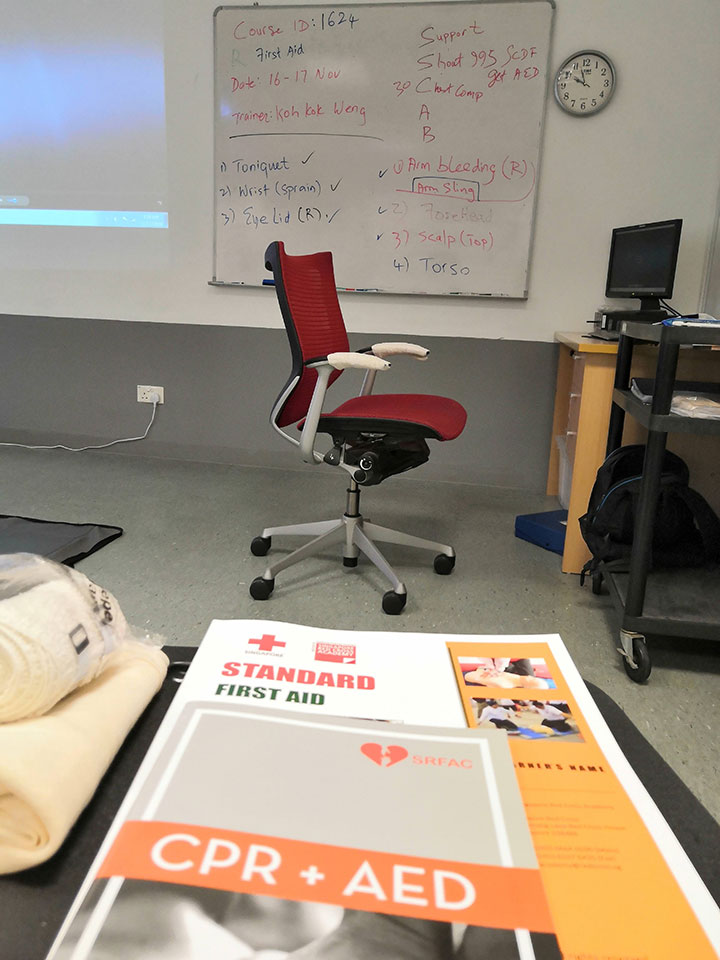 Changes to the First Aid, CPR, AED Syllabus
This year, there are a lot more changes. Here are the differences from the 2017 syllabus which I could remember.
As the mouth-to-mouth resuscitation is removed from the CPR workflow. The certification was newly named, with "(Hands-Only)" added to the certification.
There is an extra topic on the SCDF MyResponder App.
When calling for help, we changed from "Call 995 for Ambulance!" to "Call 995 for SCDF!" We noted that this may be less intuitive, especially for foreigners. Wonder why SCDF wants the additional branding.
We are taught how to administer the EpiPen for allergies.
There is a practical exercise to learn how to tie a tourniquet. Previously it was only the theory. We were told that rise in terrorism may increase the likelihood to use this skill. Well, no harm learning.
Our CPR test was administered via a Little Annie QCPR. It was easier for the examiner to tell how accurate we are in three aspects – hand position; compression frequency; depth and release of the compressions. Do check out the manufacturer's website and video. It does feel like playing a arcade machine. Once you get the hang, it is easy to ace.
How to administer spacer for asthma victims. However, as the academy did not have stock for the test kit, we skipped this part of the syllabus.