I finally completed the Singapore Sign Language Level One Course conducted by The Singapore Associate for the Deaf on 24 Oct 2019. "Completed" instead of "Passed", as the level one course does not have any test or exam.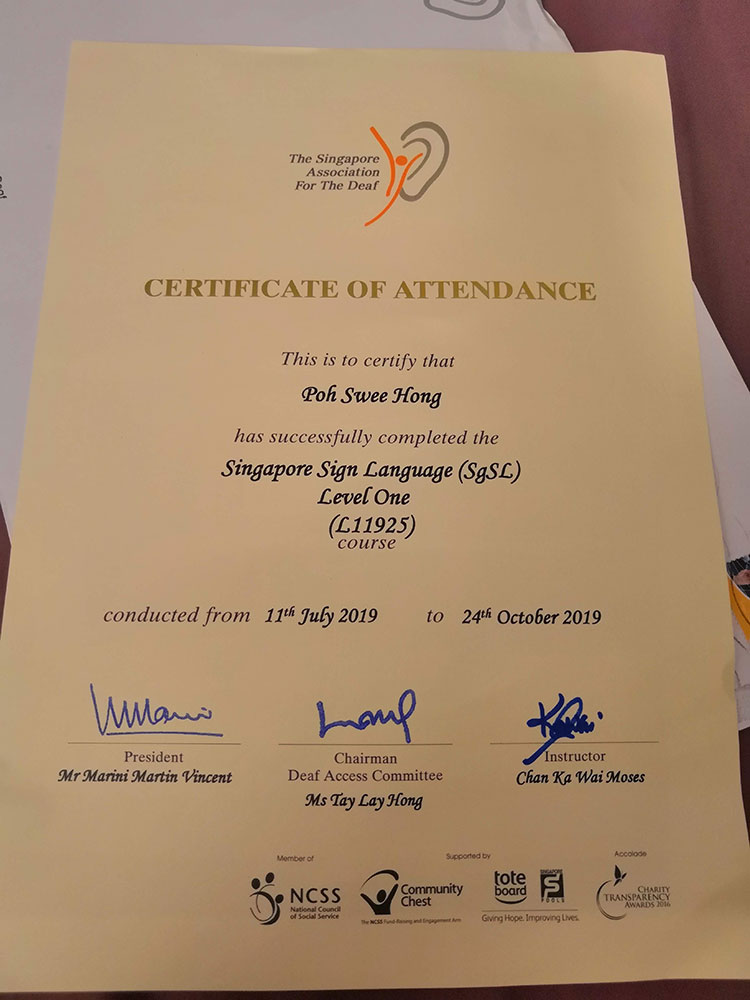 Singapore Sign Language (SgSL) Programme
Singapore Sign Language (SgSL) is a native sign language recognised and accepted by the Deaf community in Singapore. SgSL comprises a combination of Shanghainese Sign Language (SSL), American Sign Language (ASL), Signing Exact English (SEE) and locally developed signs.
A "no-voice" teaching method is used to reinforce the learning experience. Participants learn through classroom instruction and role-play, as well as storytelling and handouts.
The SgSL course comprises of three levels:
null
Level One aims to develop capabilities in non-verbal, visual-gestural communication as well as the study of gestures as a form of communication, and visual language basics. Theme based and including activities in expressive and receptive skills, the course focuses on training learners in basic functions such as greetings and introductions. It also emphasises the systematic study of the SgSL vocabulary and structure. There will be no test or examination in this level.
Level Two is a continuation of Level One, expanding the emphasis on developing signing skills and sign communication. There will be test or examination in this level.
Level Three is a continuation of Level Two. There will be test or examination in this level.
How was the SgSL course?
It was an eye opener for me to get engage in a non-verbal communication culture, although I am not a very talkative person by nature. There was no specific way to communicate. Some of my key learnings:
There is no formal structure to the sign language. It is almost like just communicating the "key words" with no need for conjunction words.
There are certain priorities, e.g. if you need to communicate time, mention time before the person or activity. For example, "8pm, I go home dinner" instead of "I go home at 8pm for dinner".
Different countries can have different hand signs due to the different culture and context.
It is not easy to gossip in sign language, as the communication is visible from far. We often point at people we are talking about.
There is no google translate for sign language. Most of the "translator" online convert English letters to finger spelling (letter by letter), which is not effective for normal communication.
Videos are more helpful than photos/text when trying to recall how to sign words. I used handspeak.com a lot, which is based on ASL. Fortunately, SADeaf also launched the SgSL Sign Bank recently.
I guess I can use SgSL on top of my dive vocabulary when scuba diving, since it is really hard to speak underwater. As I have also completed my Sport & Exercise Science Diploma course recently, I might also want to find out how the deaf engages in sports and exercises.
If you are interested in the course, do find out more on the SgSL course page, or drop me a message below if you have any question on my experience.